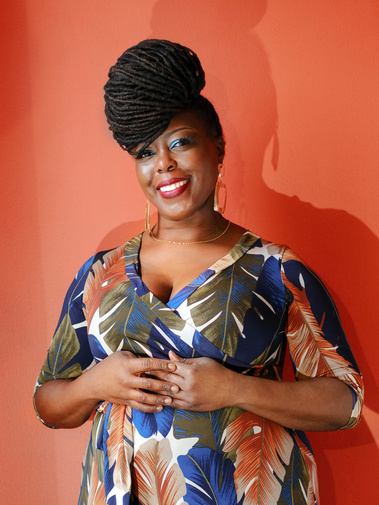 Laylah Amatullah Barrayn is an award-winning documentary and portrait photographer, writer, and curator in New York City. She is a frequent contributor to The New York Times, where her photography work on a 2019 story was nominated for a News & Documentary Emmy. She has also been published in Vogue, National Geographic, The Washington Post, VOX, NPR, BBC, The Nation, Le Monde, and The Wall Street Journal, among other publications.
Her recently published monograph, We Are Present: 2020 in Portraits, was produced with the support of Magnum Foundation. She is co-author of the independently published MFON: Women Photographers of the African Diaspora, the first anthology in nearly 30 years that highlights photography produced by women of African descent.

As curator, organizer, and producer with 20+ years of experience, Barrayn has collaborated with countless museums and cultural institutions to develop curatorial concepts, and she brings exhibitions to life through powerful storytelling using photography and ephemera of private and public archives and collections. Barrayn was invited to curate exhibitions at the US Department of State through their Art in Embassies (AIE) program, the African American Museum in Philadelphia, The Brooklyn Historical Society, and Bamako Encounters - African Biennale of Photography.

Her expertise in narratives of the African diaspora, specifically around tradition, social justice, and the experiences of womanhood, has allowed her to create compelling exhibitions exploring diverse themes and narratives. She is skilled in researching and selecting objects, designing exhibition layouts, and creating educational materials to engage, activate and inform visitors.

Barrayn's personal and professional projects have taken her from Minneapolis to Senegal to Martinique, among other global locales where she focuses her inquiries on Black diasporic communities with a special interest in religious traditions and the experiences of women.

Barrayn's photography is featured in the anthology Black: A Celebration of a Culture edited by Dr. Deborah Willis; Photography, A Feminist History by Emma Lewis and Streams of Consciousness: Bamako Encounters—African Biennale of Photography edited by Bonaventure Soh Bejeng Ndikung, among other books.

Her work has been exhibited nationally and internationally, with solo exhibitions at The Museum of the African Diaspora (MoAD) in San Francisco, CA., and The Taubman Museum of Art in Roanoke, VA. She has shown collectively at the MANIFESTA Biennale in Italy, the Brighton Photo Biennial in the UK, and the Museum of Contemporary Photography in Chicago, IL.

Barrayn has given artist talks and presented on panels at Yale University, Harvard University, The International Center of Photography, Tate Modern, New York University, Rochester Institute of Technology, and The Schomburg Center for Research in Black Culture.

In 2018, she was included as one of the Royal Photographic Society's (UK) Hundred Heroines. Barrayn earned an MA from the Department of Art and Public Policy at New York University. She is currently working on a book on contemporary Black photographers.